Textured Pu Leather is made from a polymer mixture that simulates the texture of real leather. The mixture is mixed with various additives and then passed through heated rollers. Then, the resulting material is treated with a surface texture that imitates the grain of the real leather.
Textured PU leather can be a great alternative to traditional leather.
It mimics the appearance and feel of genuine leather but is manufactured without the expense of cows or leather processing. It's also more durable than genuine leather, making it a good option for products that must withstand everyday wear and tear.
Because PU material is made of plastics, it is less flexible than genuine leather. Because it doesn't have exposed natural fibers, it can't be treated as well. It can become damaged by frequent flexing, flaking, and peeling. It can also look unappealing and have a dull color.
If you are unsure about whether an item is made of real leather or PU, you can do a simple friction test. While real leather will retain its shape after a friction test, PU leather will regain its original shape faster. PU leather is becoming an increasingly popular material, and is used in many different sectors. This allows companies to offer products of average quality for very low prices.
Textured Pu Leather is a great alternative to real leather, although it does have some drawbacks. While real leather is more durable than PU leather, it does not have the same natural beauty. It also tends to break down over time and show signs of wear within a few years.
Textured PU leather is also vegan-friendly. It does not contain animal products and is also much lighter than real leather. Moreover, the PU leather doesn't dry out. While it doesn't have the same strength or texture as real leather, it is a great choice for those who are trying to avoid animal products.
A good quality PU leather is easy to clean and care for. It is also resistant to heat and difficult weather conditions. The only drawback is that it won't last as long as a genuine leather item. So, if you're considering buying a piece of PU leather, it's best to check its authenticity.
Textured PU leather is made by applying a polyurethane coating to a base material. Common base materials include cotton, nylon, and rayon. The surface is then treated with an artificial grain pattern using a roller. It's not as flexible as real leather, but PU leather can last for a long time.
Textured PU leather is often a great option for phone cases,
especially if you're looking for a high-quality, durable phone case. This type of leather is easy to clean and is UV-resistant. In addition, it has an embossed finish.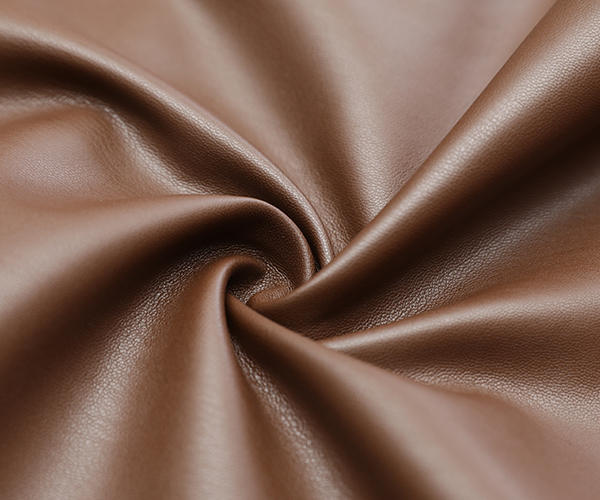 516-33 V3 Caramel Colour Waterproof PU Leather
Material : microfiber pu  leather
Usage : car seat, steering wheel and other interiors, furniture, sofa, chair cover, bag, luggage
Color : all colors 
Model Number:516-33 V3
Width:custom